« Back
City Ciudad Quesada, Spain
17.06.2019 13:46
Ciudad Quesada is a small but already famous city on the southern part of the Costa Blanca. The city was founded half a century ago and proudly bears the name of its founders who to this day live in it and actively develop.

Over the years 50, Quesada has become a popular and prestigious place for comfortable rest and permanent residence. The city is dominated by low-rise buildings mainly: villas, houses and townhouses - Property Directory in Ciudad Quesada

The developed infrastructure of the city includes: the 4 star Hotel La Laguna Spa & Golf, a fitness center, a medical center, a riding field, several tennis courts, a bowling alley, a water park, etc. In Quesada there is everything that is necessary for a full and comfortable life: bank branches, supermarkets, vegetable shops, hospital, pharmacies, restaurants and bars, a dental clinic, a school, and a farmer's market works on weekends.

Now about 15 thousand people live in the village, mostly Englishmen. Most of the city is located on a hill, surrounded by citrus orchards and adjacent to the unique natural reserves - lakes - La Mata and Laguna Salada.

There are a lot of green squares in the city, in a city park you can have a great day in nature, barbecue and ride a bicycle.
Weather in Ciudad Quesada
Weather - Tutiempo.net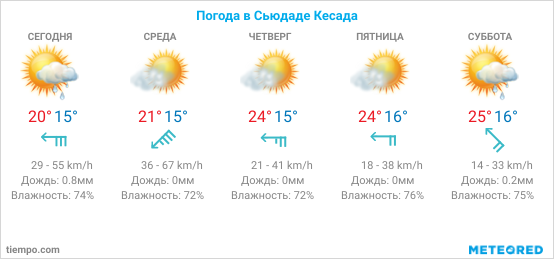 The favorable location of the city is another advantage for its inhabitants. Quezada is located at the intersection of the main traffic flows - in 10 - 15 minutes you can get to the best beaches of the Mediterranean Sea, in 5 minutes, go to the A7 expressway and get to the airport in half an hour /
Golf Club - Marquesa Golf & Country Club is another advantage of the city. The popular golf club has long been famous not only among locals, but throughout Spain. The beautiful landscape, convenient location of the golf course attracts both professionals and amateurs not only from other regions of Spain, but even from abroad.

The golf club is located in the northern part of the city, it has an incredible size and convenient infrastructure for both players and spectators.
Every Sunday, on the outskirts of the city in the direction of Torrevieja, there is a street tourist market in Quesada, and on Thursdays, the bazaar operates next to Rojales.

Quesada - the perfect place to relax and live in Spain!
Come and see for yourself!